o'charley's: stepping into the future.
Like many businesses large and small, legendary restaurant O'Charley's has seen the future … and it is digital. Particularly in the age of COVID, they wanted to make their web presence and in-store ordering experience as incredible as their brick and mortar has been for years.
the problem.
2020 shined a new light on the digital shortcomings all of us are facing in business. The good people at O'Charley's wanted to not only get ahead of those issues, they wanted to take all aspects of their digital presence to the next level for their guests.
In our early conversations with them, it became clear that O'Charley's were not satisfied with their digital presence, both on the web and in their restaurants. They wanted to make the experience of their restaurant simpler, safer, and less stressful for their customers and employees.
Their (very wise) theory was that if much of their business was going to be online in the future, it was all important to get it absolutely right. From ordering and pickup via their website, to no touch ordering in the restaurants, to saving money by switching to usable digital menus, to decreasing a waiter's average time at table.
Though specifically through the lens of a restaurant, the challenges O'Charley's faced are staring all business and industries down and we're proud to have been the ones that helped them evolve their digital assets to where they are today.
the process.
We began the process of O'Charley's digital transformation with a complete audit of their desires and concerns, as well as their current digital assets. Early on, it became clear that they wanted — and the job would require — not only an overhaul of their website, but a reimagining of how their customers interacted with the brand.
Their website did need a facelift, but we were not given a brief to alter their logo, or their main color scheme. Other than that, we began making comps and decisions that would ultimately affect everything else on the site.
As we dug in further, other issues began to present themselves. We would need a plan for the mobile responsiveness of the site, the load times on images were far too long, and there needed to be a much more consistent look and feel between their website and the restaurants themselves. We needed to accomplish a seamlessness between digital and brick and mortar.
And this seamlessness could not only be an aesthetic one, there were many functional elements that were crucial to their business (and it's future growth) that began appearing. O'Charley's know what they're doing, and they knew where they wanted to go in this respect … they wanted an effortless online ordering platform, an easy signup loyalty program, integration of gift cards on their site so customers could check their balance live, and new digital menus that were actually a pleasure to use.
Altogether, we discovered at least twelve major upgrades and/or innovations (see them listed below) that would be needed to complete their customer experience in the way we believed they deserved. Some of these came from O'Charley's and some were discovered and pitched by us to them, but in the end this was clearly going to be a challenging and creatively satisfying job to do for them.
the solution.
The easiest way to illustrate our solutions for O'Charley's challenges is to show you.
Below is a simple laundry list of what our conversations with O'Charley's and our own research determined would need to be done, in order to get them where they wanted to be. Note: not everything below is followed by an image, if we did that, this page would scroll for an hour! But you'll get the idea …
1. We did a complete redesign of their main marketing website, with the exception of their current logo and the major branding elements. Within this work, we did bring their logo into the digital realm: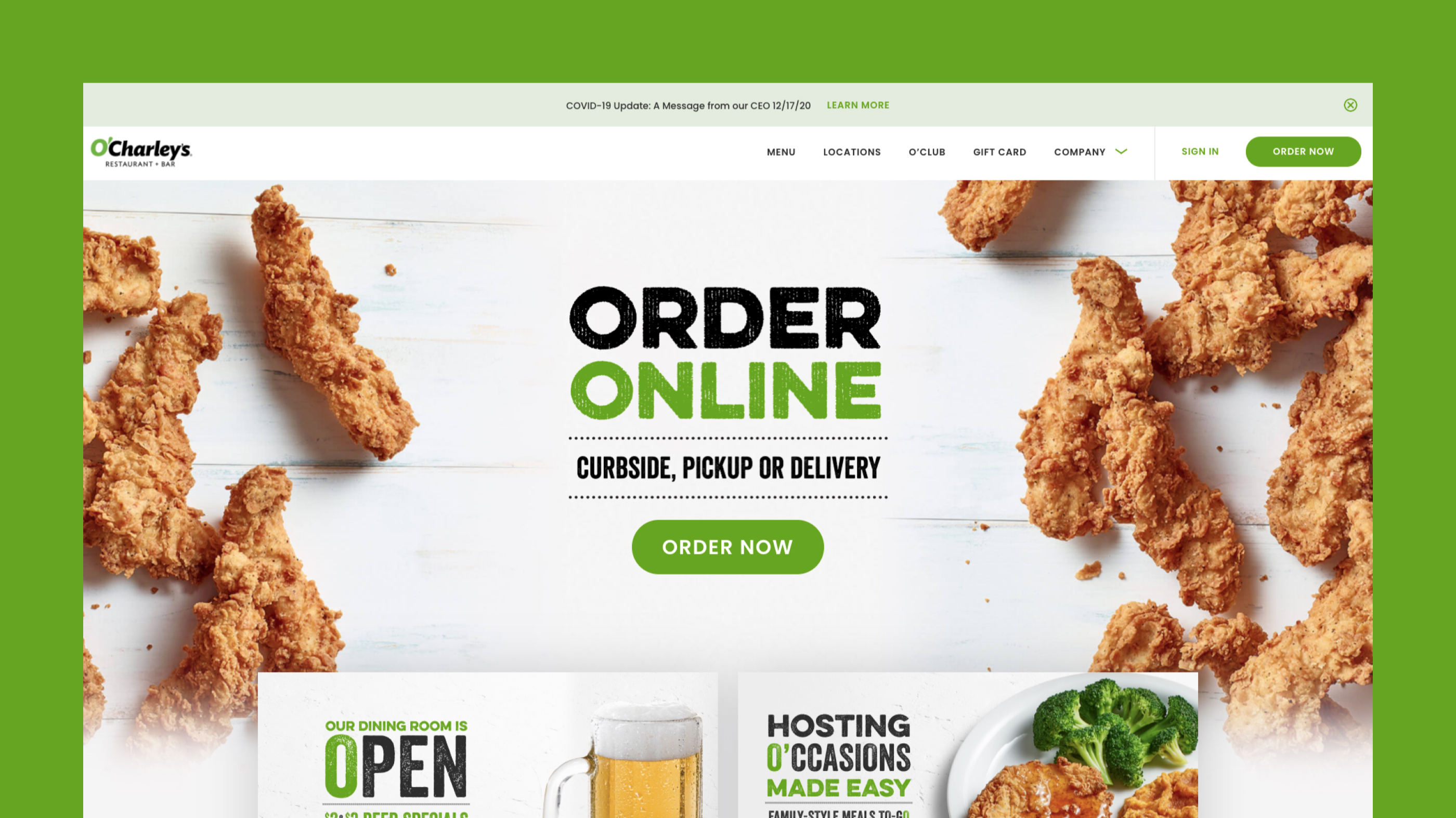 2. We did a "from the ground up" new build of their website using WordPress as the CMS. This obviously took care of issues like cruft from the past hanging around, which gave the site the speed it had badly needed: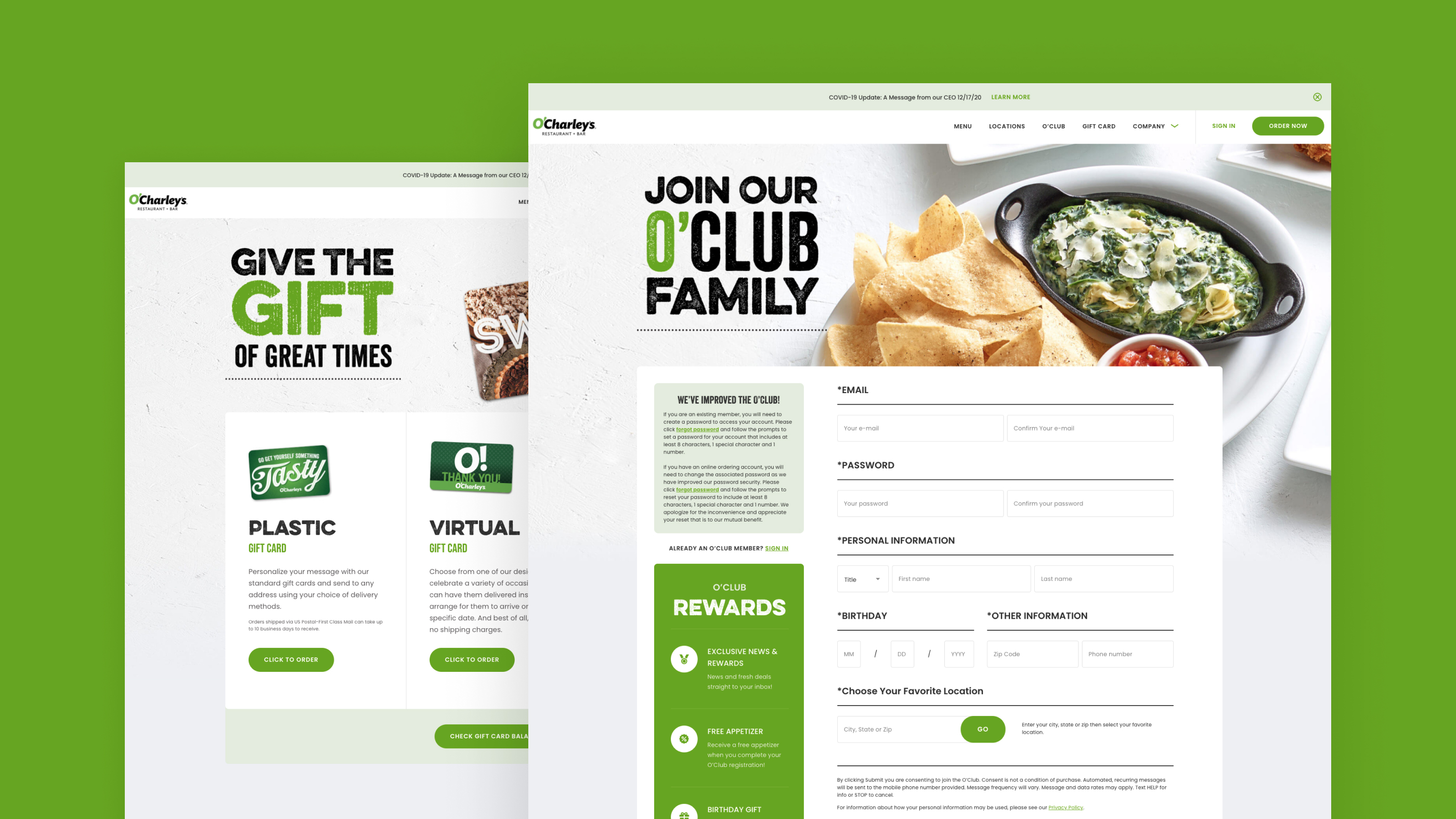 3. We created a seamless and robust mobile responsive design. This was crucial to get right, particularly because O'Charley's wanted there to be zero issue with or barrier to jumping on the phone and ordering from anywhere: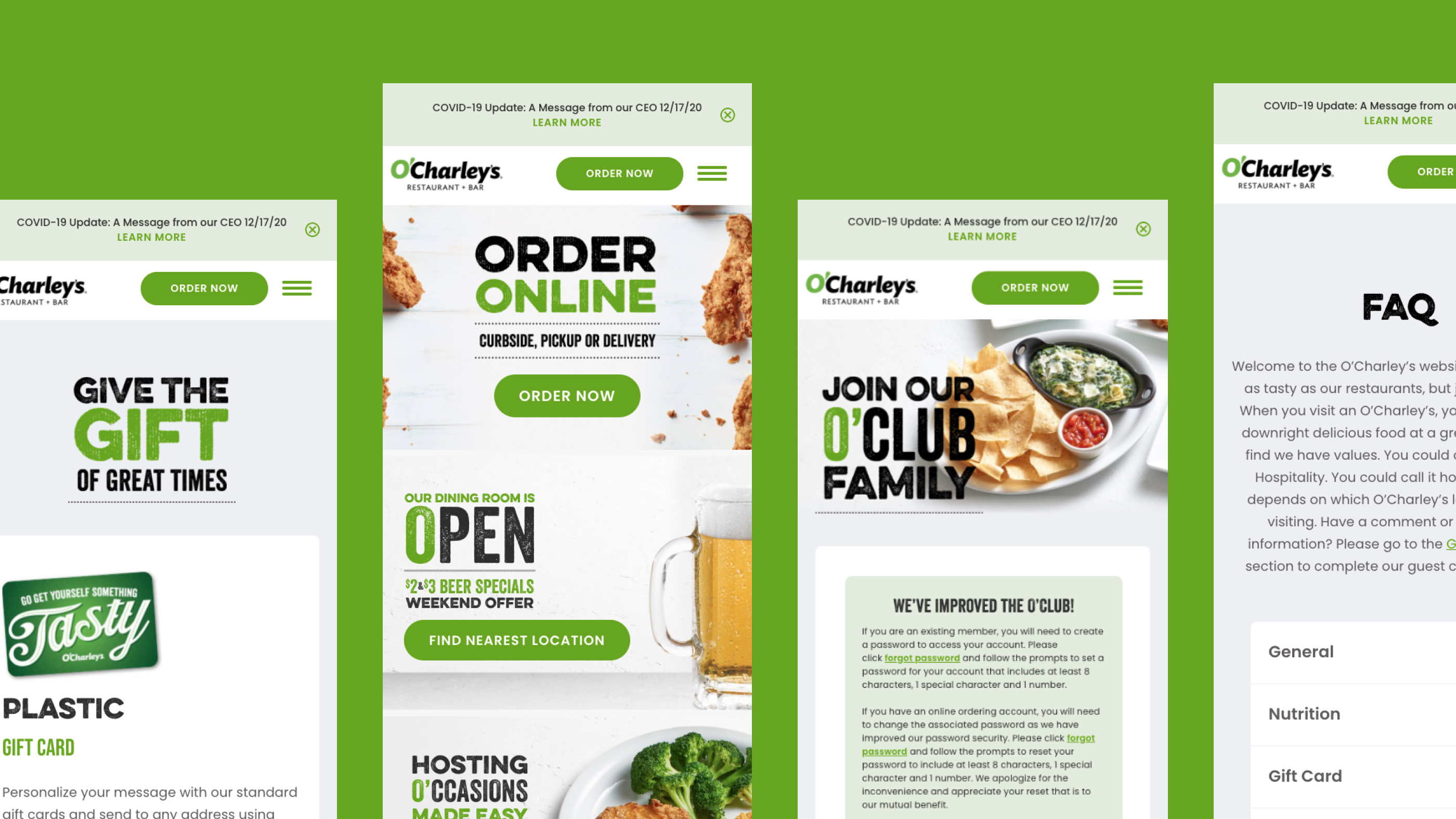 4. In the design phase, we worked hard to achieve a consistent look and feel between the website and the restaurants:
5. As we moved more into the raw functionality of the new site, we created and integrated a new loyalty program that was incredibly easy to sign up for and use: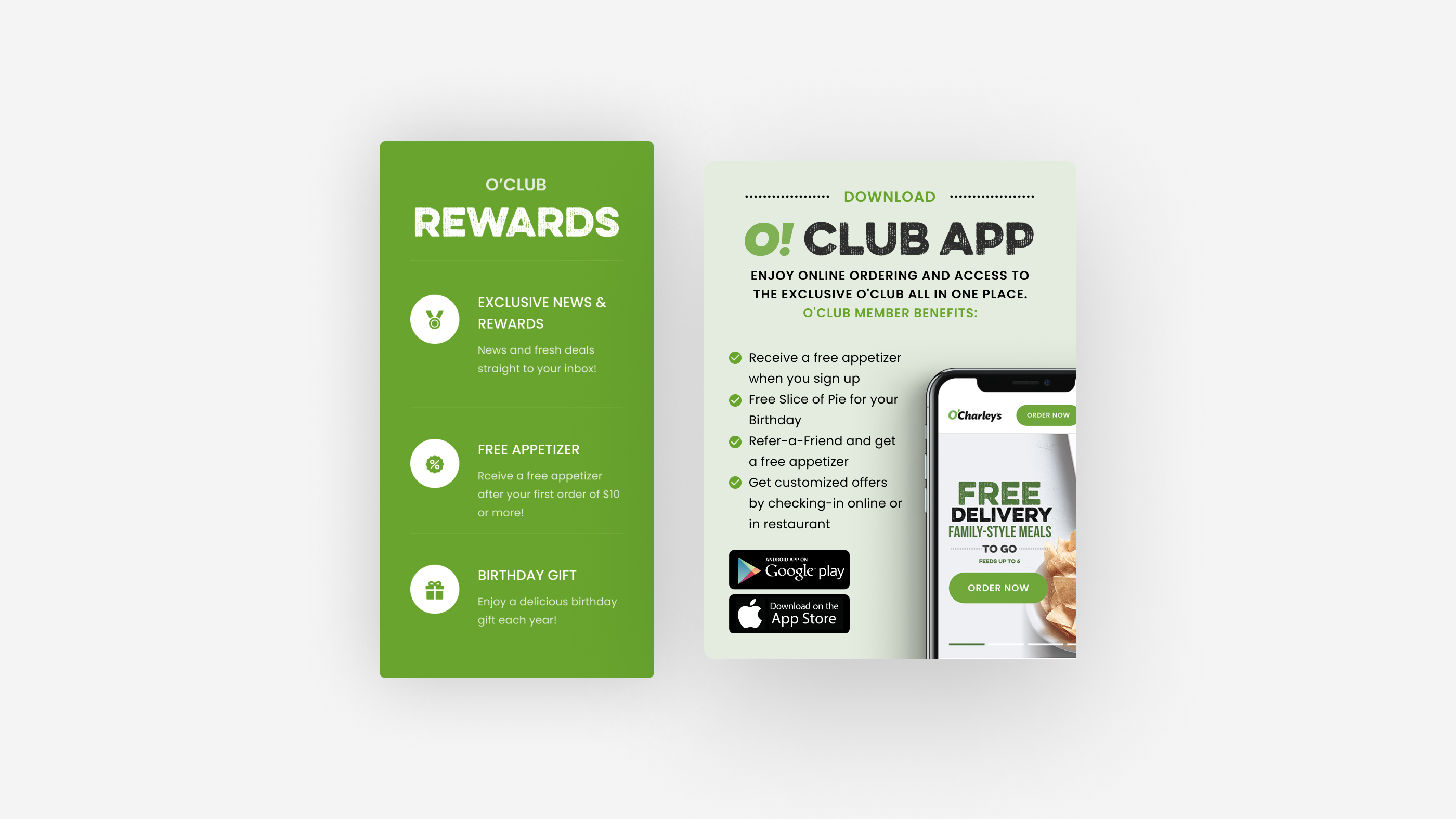 6. Within the loyalty program, we integrated O'Charley's customer email list, a rewards points system, a new gift card system (guests can now check their balance live on the website), automatic WiFi connect, and the ability view past orders for easy reordering: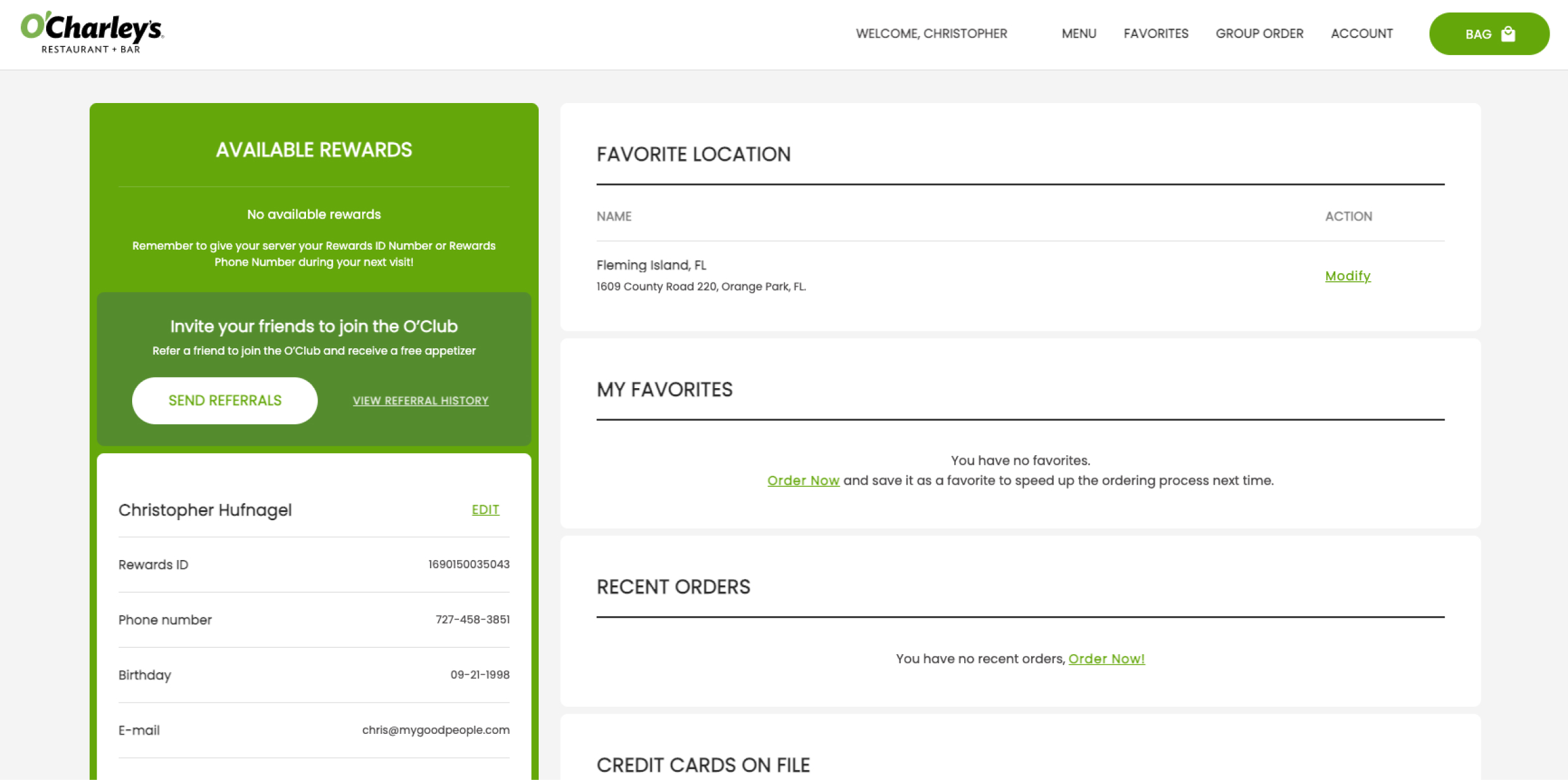 7. We created a custom WiFi page that grows O'Charley's customer base by connecting to the loyalty program when a guest signs up to use WiFi in a restaurant: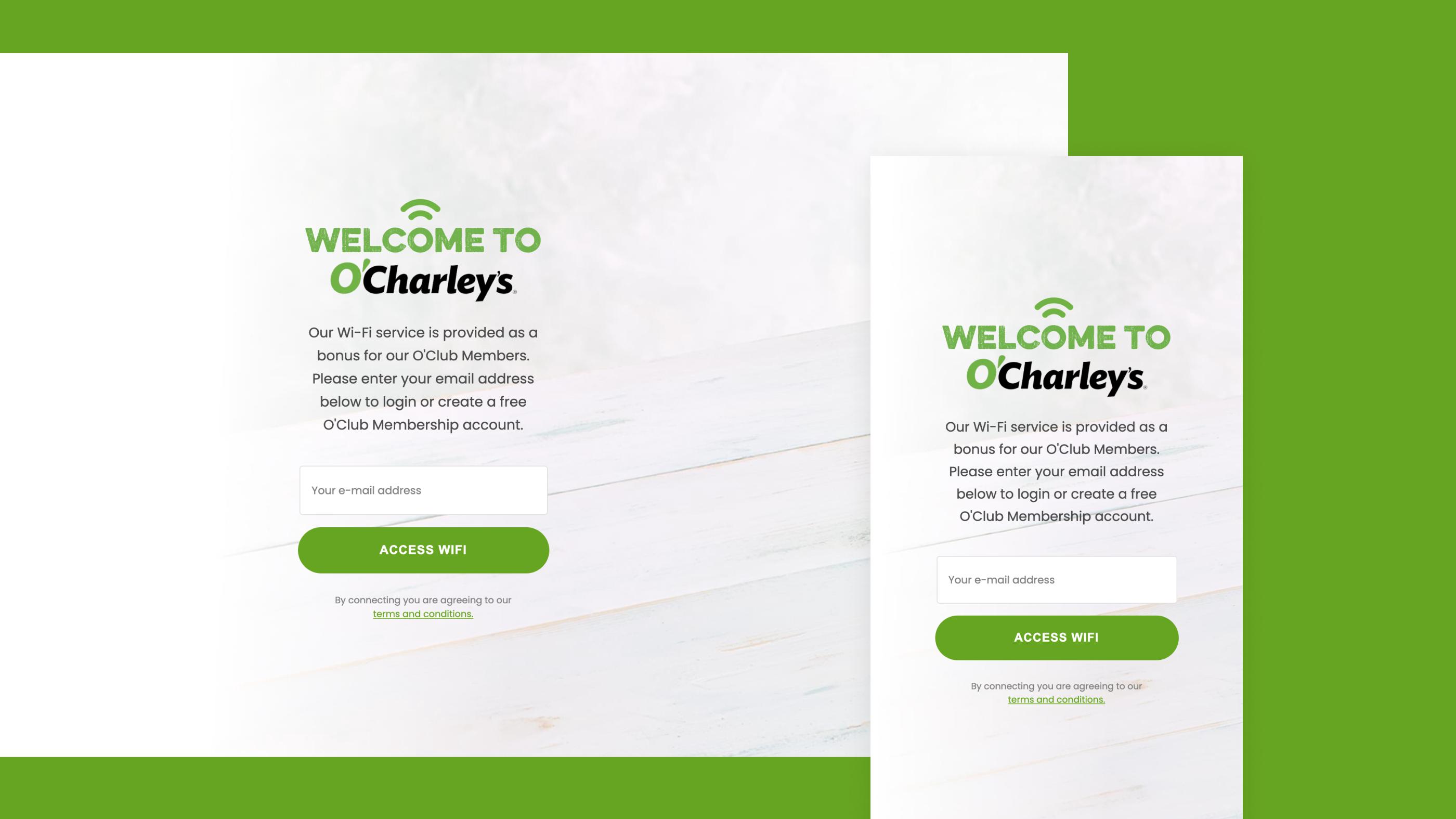 8. We reimagined and created a new online ordering platform. On the site and in the restaurants, this platform does several things crucial to the business and customer experience, including: group food ordering, making the menu items much more appealing, creating image-based upsells from the menu, "pay-at-table" ordering, and much faster checkout.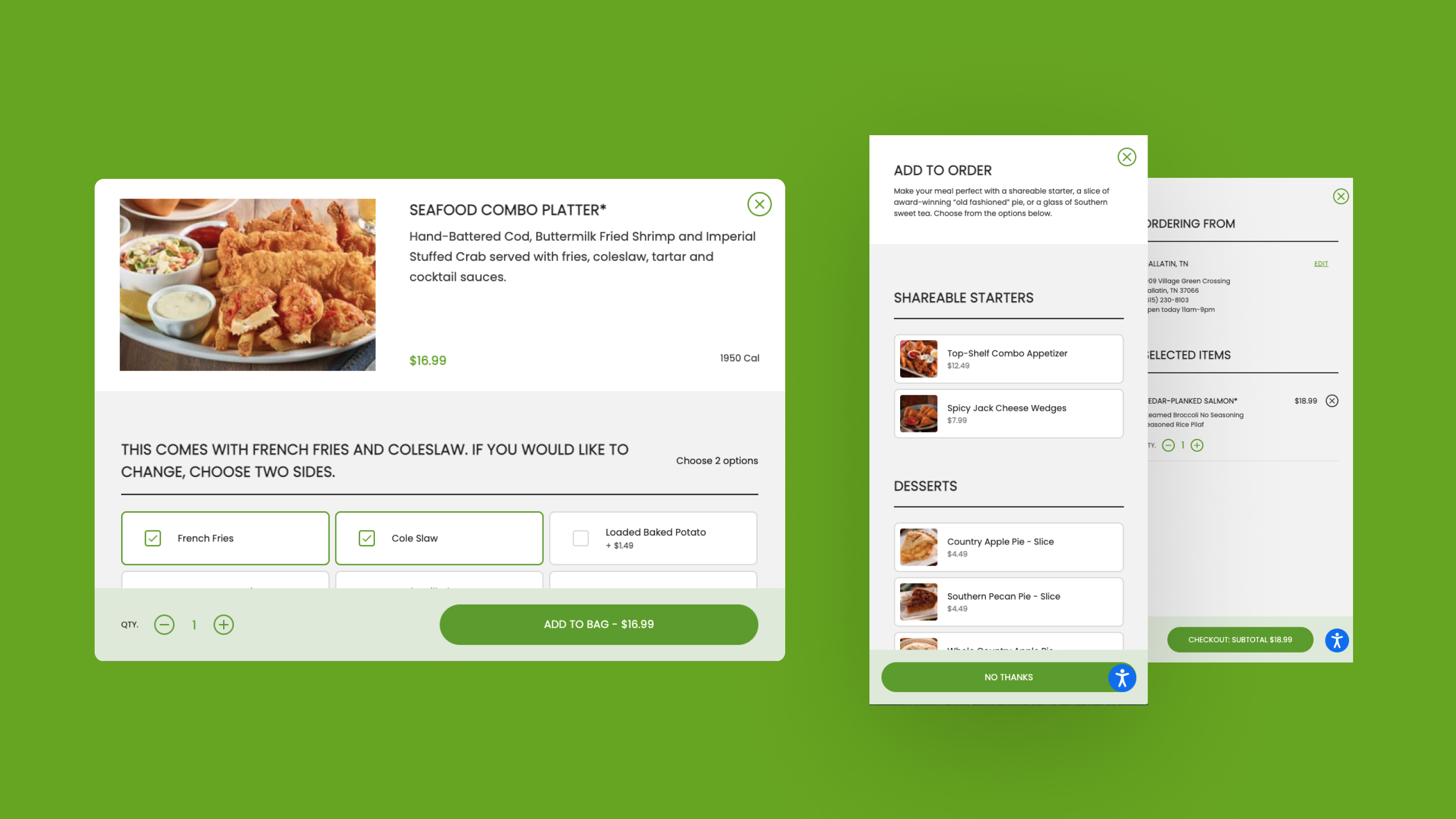 9. We created and designed a brand new, QR code based, digital menu. And, in the COVID-era, this presents a big win for both O'Charley's employees and their guests, eliminating the handling and cleaning of physical menus, cutting at-table time for their waiters, and making things generally simpler, safer, and less stressful.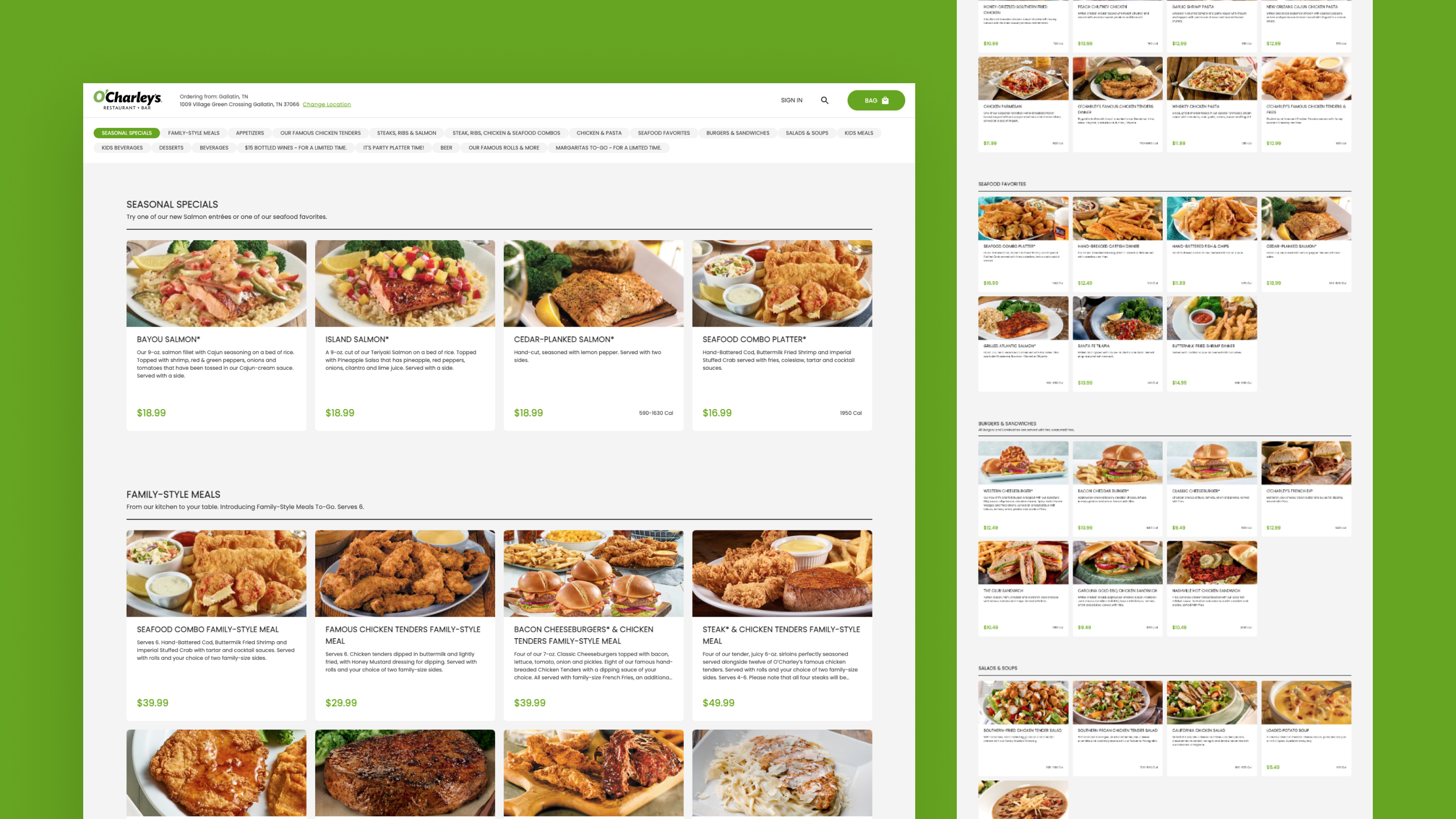 10. And, going forward, we're continuing to build our relationship together, by offering ongoing support both on the technical and marketing sides of their business, by relentlessly looking for opportunities to improve it via the data they now have streaming into the office.
We're grateful to have been able to work with the incredible professionals at O'Charley's, who are bringing good food, good friends, and good stories together every day. They are good people.
Check out the rest of O'Charley's site right now at ocharleys.com