jason feifer: reimagining a digital presence from scratch…
Jason Feifer is an expert content producer in many mediums, but he had one big problem: his homebase, his personal website, didn't reflect those accomplishments. He came to Good People Digital looking for a complete digital brand transformation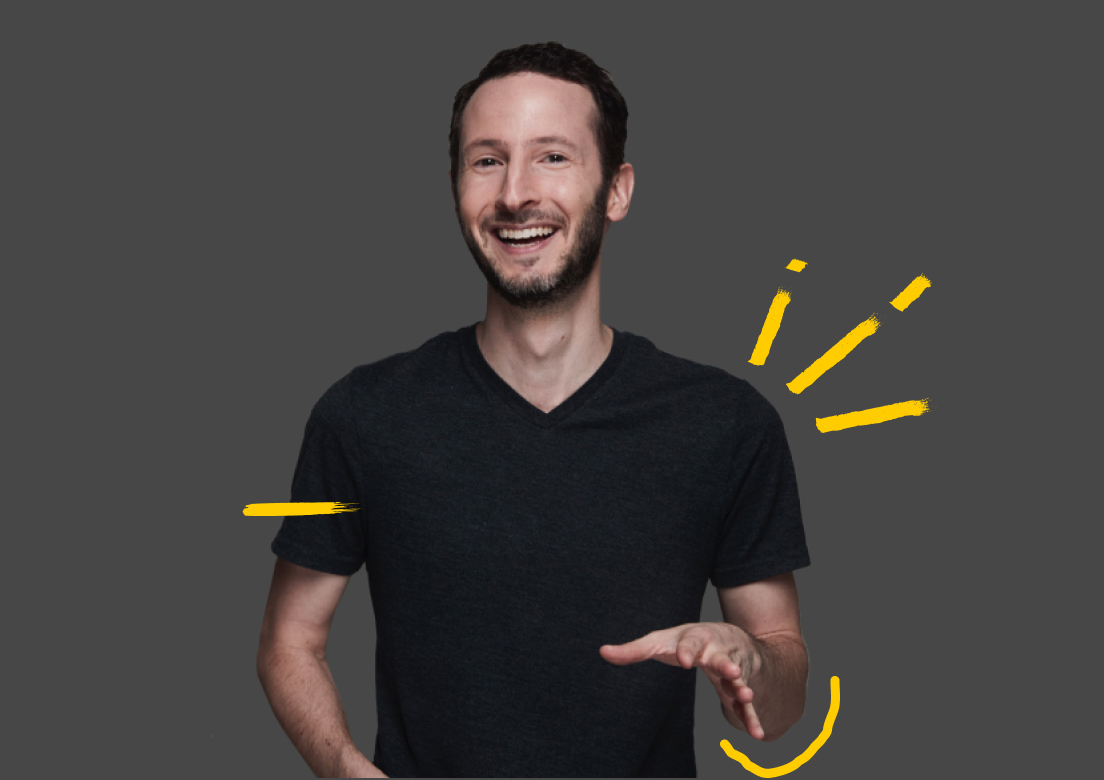 the problem.
Editor in Chief of Entrepreneur magazine. Host of a successful podcast. Accomplished public speaker. Champion of change. These are just a few of the high points of Jason's brand. The problem was, none of his digital properties lived up to who he actually was.
His website was good, but it didn't have the structure or the design that communicated what he offered the world and where he was going in it. His social media assets (avatar, background images) didn't instantly reflect his contagious optimism, his podcast art needed to broadcast that same optimism, as well as his professionalism.
Jason faced a classic problem: he'd been so busy building an amazing career and brand out in the real world, that he didn't have the time or the team to build the digital presence that that brand deserved. Jason is good people. We arrived on the scene to help solve this problem with him.
the process.
Our process to uncover and determine the path good people like Jason need online is comprehensive, but not intimidating.
We interviewed Jason several times, asking friendly questions and slowly drawing out what he liked and disliked, what his hopes for the future were, and where he wanted to go.
As these conversations continued, we also began to compile our own research of his offerings and the digital assets that supported them … his website, his podcast art, and his social media assets.
A vision of what would be possible started to form. So we began to dig deeper into the three major areas that his particular digital brand transformation would require:

Structure

Design

Development
We first took a long, hard look at Jason's many talents, and how he wanted to illustrate and promote them across his digital properties. This began the process of creating a sensible and conversion-based structure for his website. Jason's main goal was to grow his email list, but he also wanted to offer and display the various content mediums he worked in (writing, podcasting, his book, consulting, and speaking) so that visitors to his site could easily find what they needed.
Next, we embarked on the crucial process of research in the service of rebuilding his brand — from a design perspective — from scratch. This can sometimes be a tortuous process, but not with Jason. His raw branding and design desires were brilliant and we took the time to listen carefully, learn, and become intimately familiar with his work, in order to begin shaping a new brand identity for him.
Finally, our incredible development team began drawing up a plan that would bring all of these ideas and research hours to life. It could be argued that the development stage of any project is the most important, for without it, nothing actually gets sent into the world. Though fairly straightforward, Jason's project would require expertise in nearly all areas of web development, so we got to work.
the solution.
The outcome of all of this work with Jason is nothing short of inspiring. He is the "guy who gets you excited for the future," and we're beyond excited for the future of his brand.
Let's start by taking a look at the structure of his site, in particular, his homepage …
As stated above, our goal was to structure his new site in a way that makes sense for both his visitors and his business goals. We accomplished this by simply presenting his most pressing goals very clearly in several prominent places.
For instance, the top navigation menu of the site:

Which follows an only slightly different set of presented offers as you scroll down the homepage: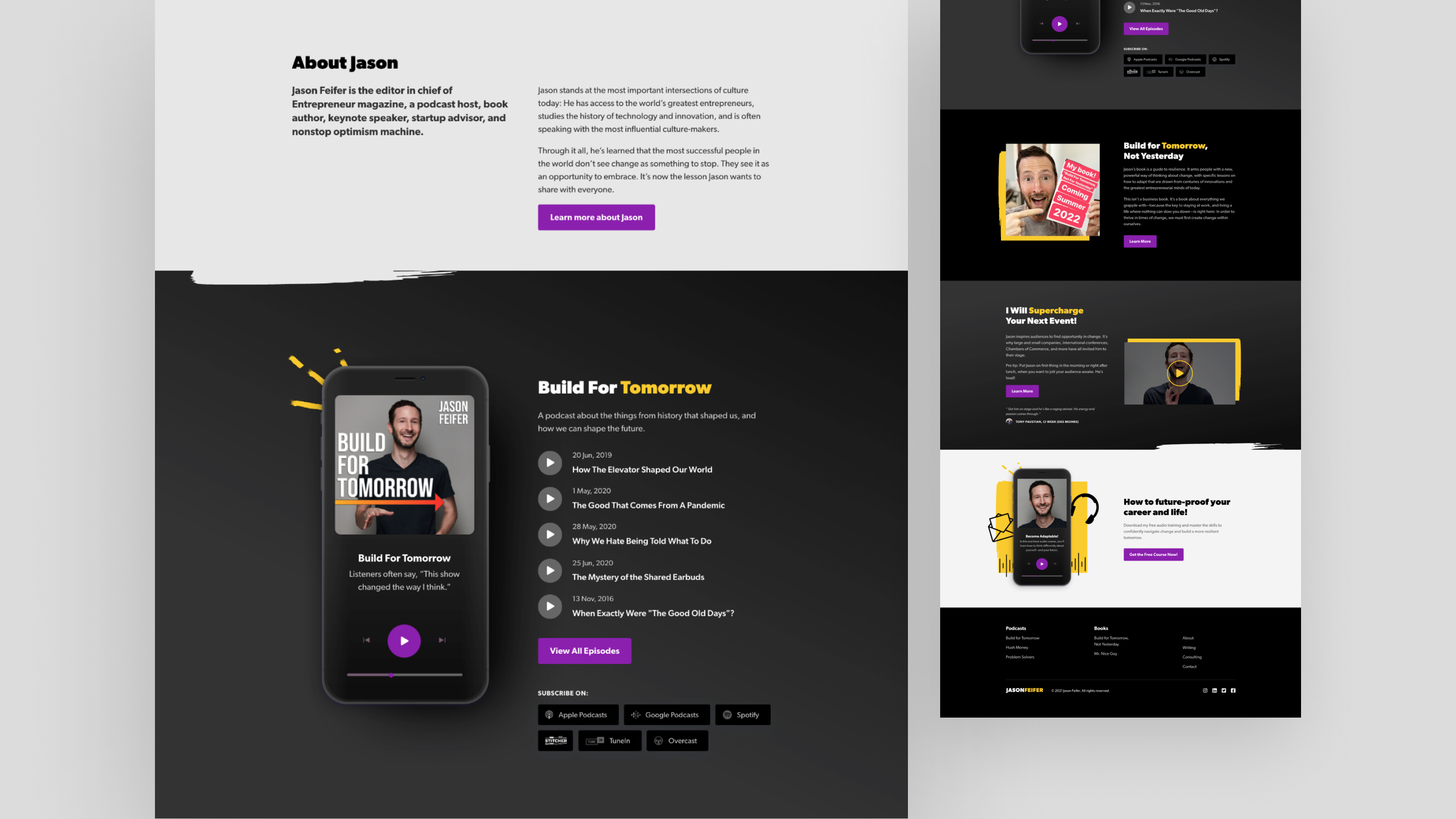 Again, the idea here is not to overload the visitor with information, but to strategically place the right information in the right place, excluding nearly everything else. We, with Jason, decided what was most important, then we presented it clearly.
This process allows the visitor to find exactly what they're looking for, while simultaneously supporting Jason's most important business goals: join the email list, follow the podcast, buy the book, book him for a speaking engagement.
Beyond the homepage, we made decisions about the most important pages that Jason needed, either in support of click throughs from the homepage and/or as standalone sales pages.
He needed a "Start Here" page so that visitors to his site could take one step deeper into his story and offerings, after the homepage: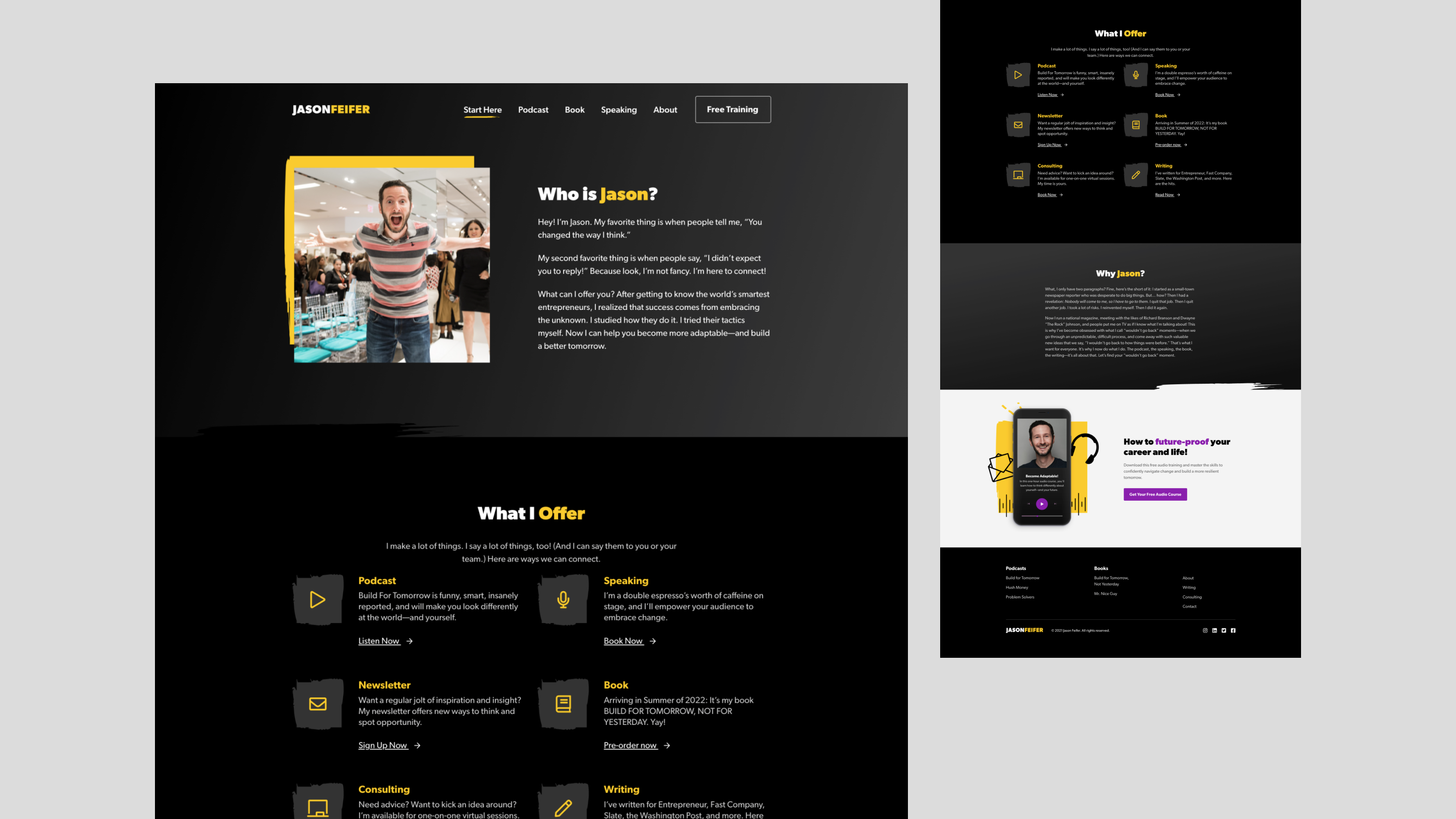 He needed a dedicated podcast page, as well as pages fro individual episodes of the podcast: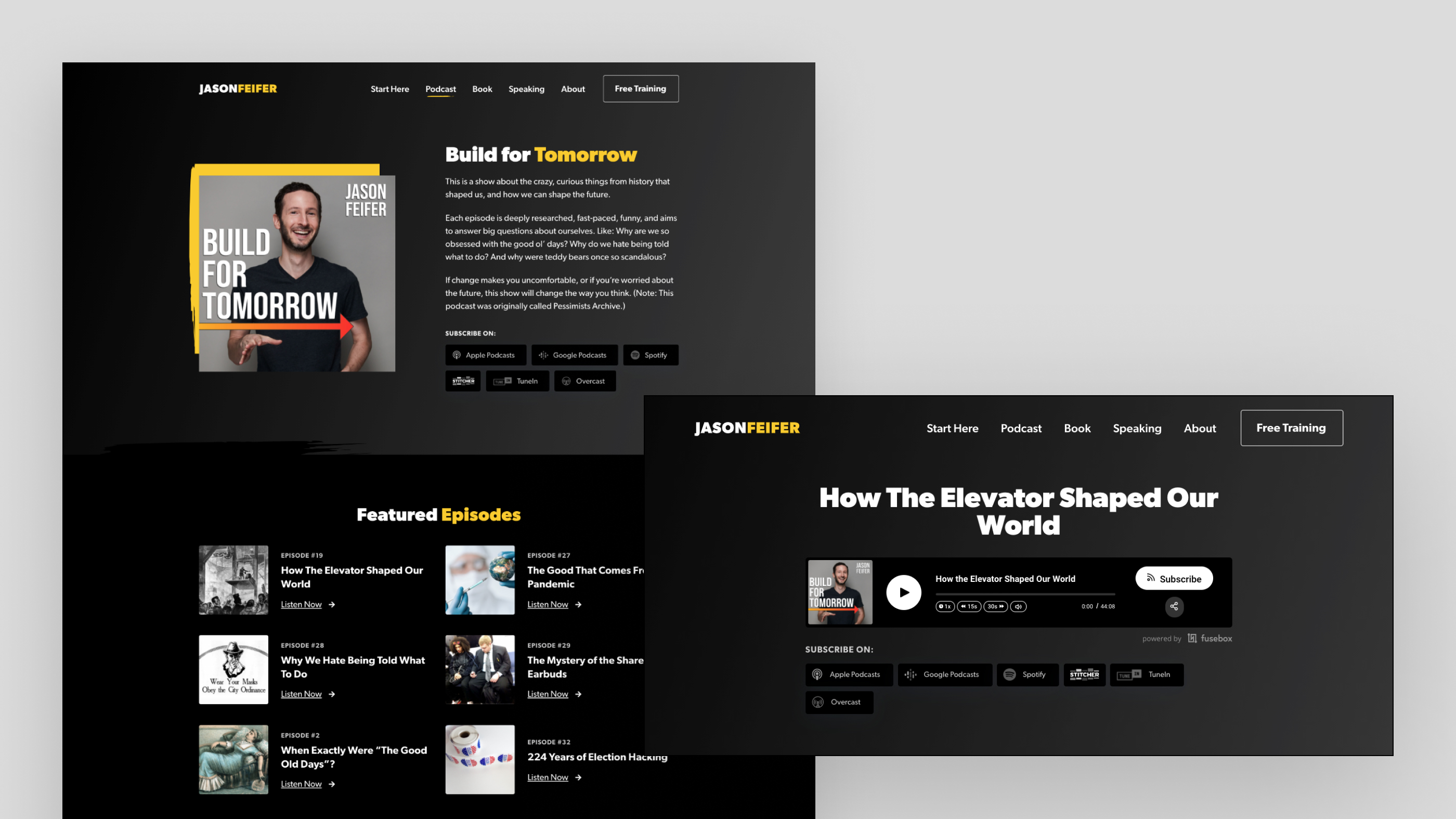 A dedicated landing/sales pages for his book: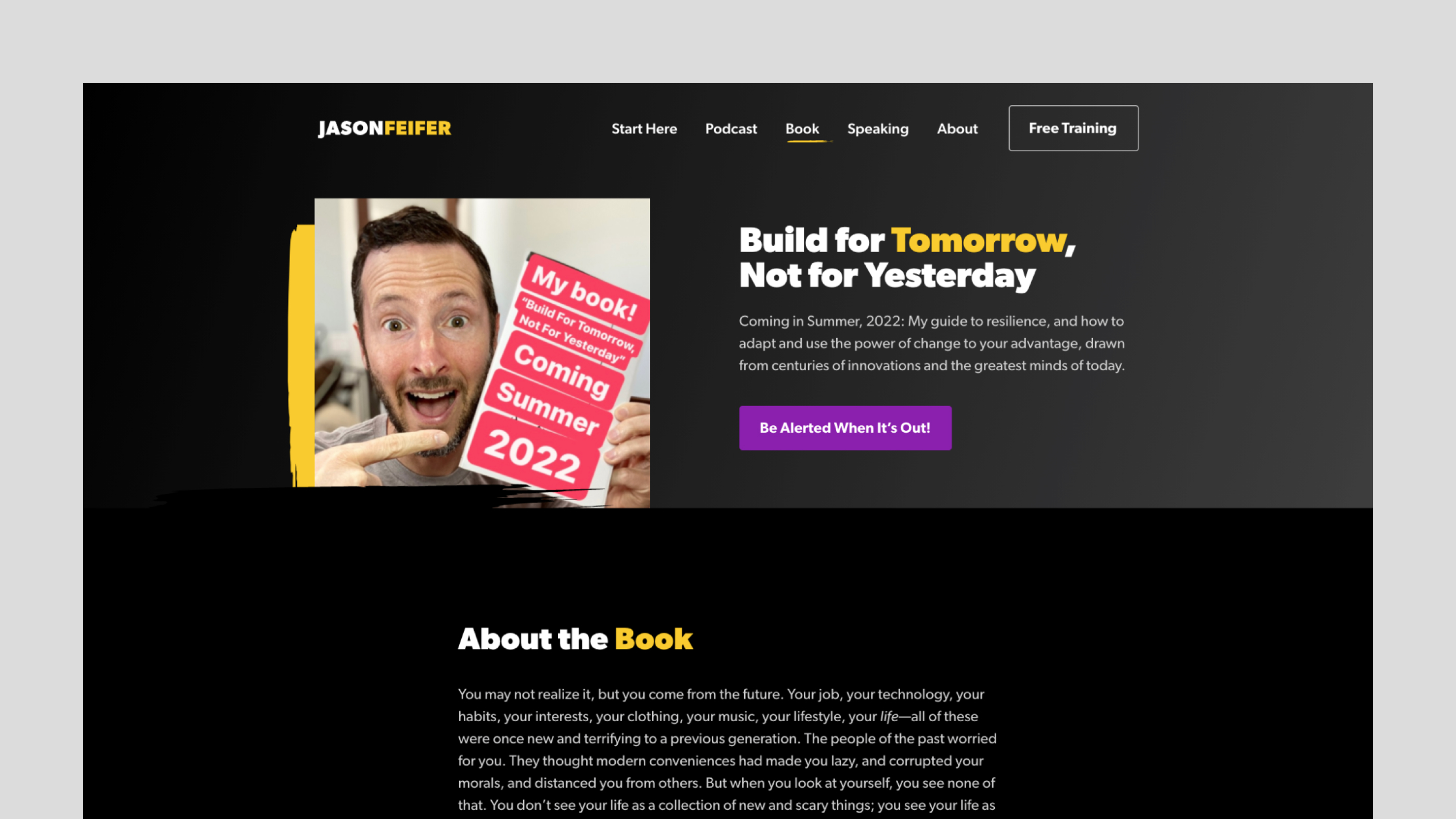 There are several other page types we conceived, designed and developed for him as well, but these are the main ones.
Now, let's spend a moment taking a closer look at the new design and branding we've done for Jason.
Working from our conversations with Jason, as well as extensive research into his personality, offerings, and style, we began to dream up and execute an incredible design framework that included:

Overall Digital Branding
Website Design

Mobile Responsive Design

Custom Design and Layouts for Individual Pages
In the end, we created several different elements that run throughout the site, here are a number of examples …
A new type-solution logo, A new color scheme, A complete overhaul of his typography: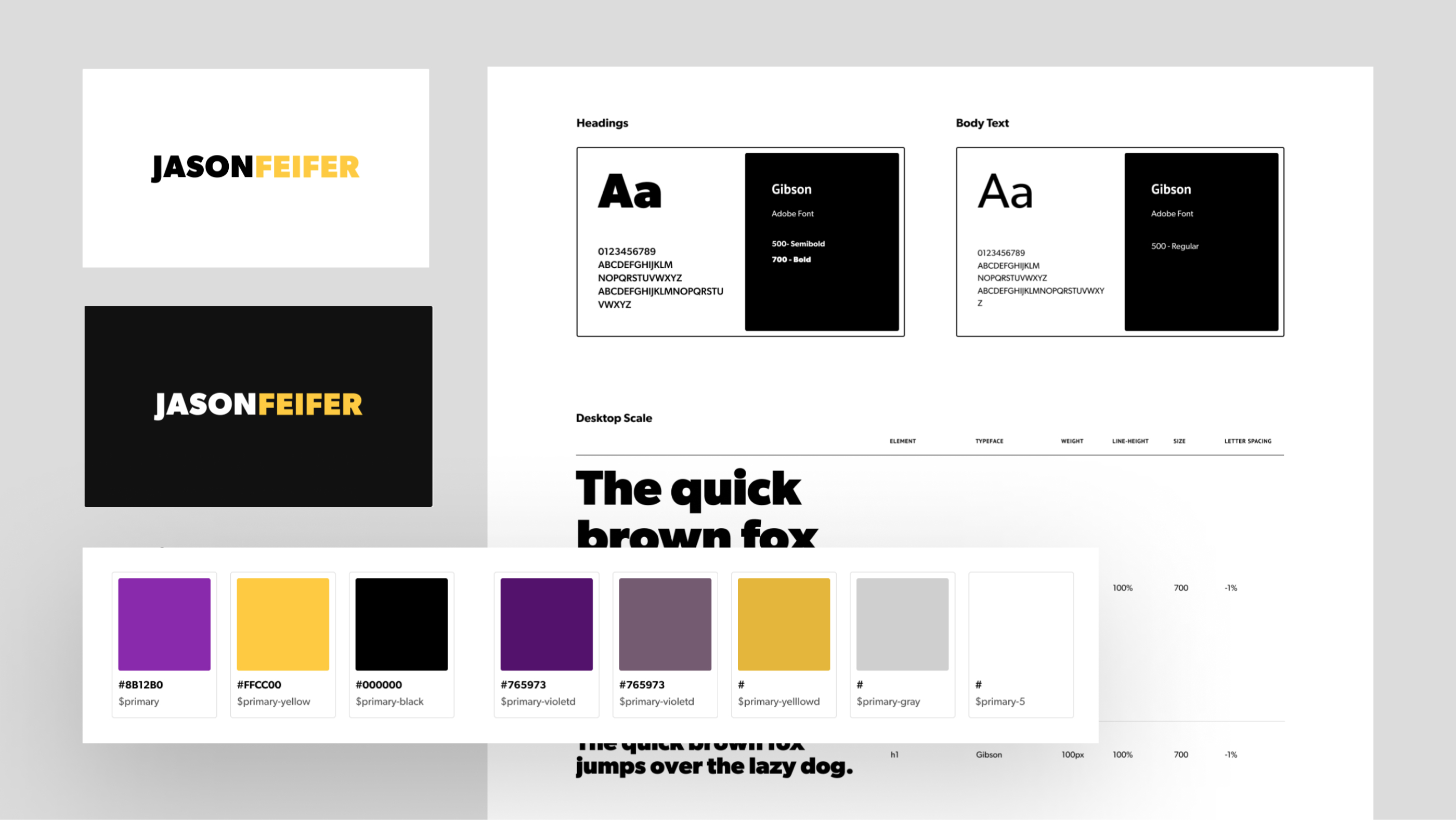 100% Mobile Responsiveness: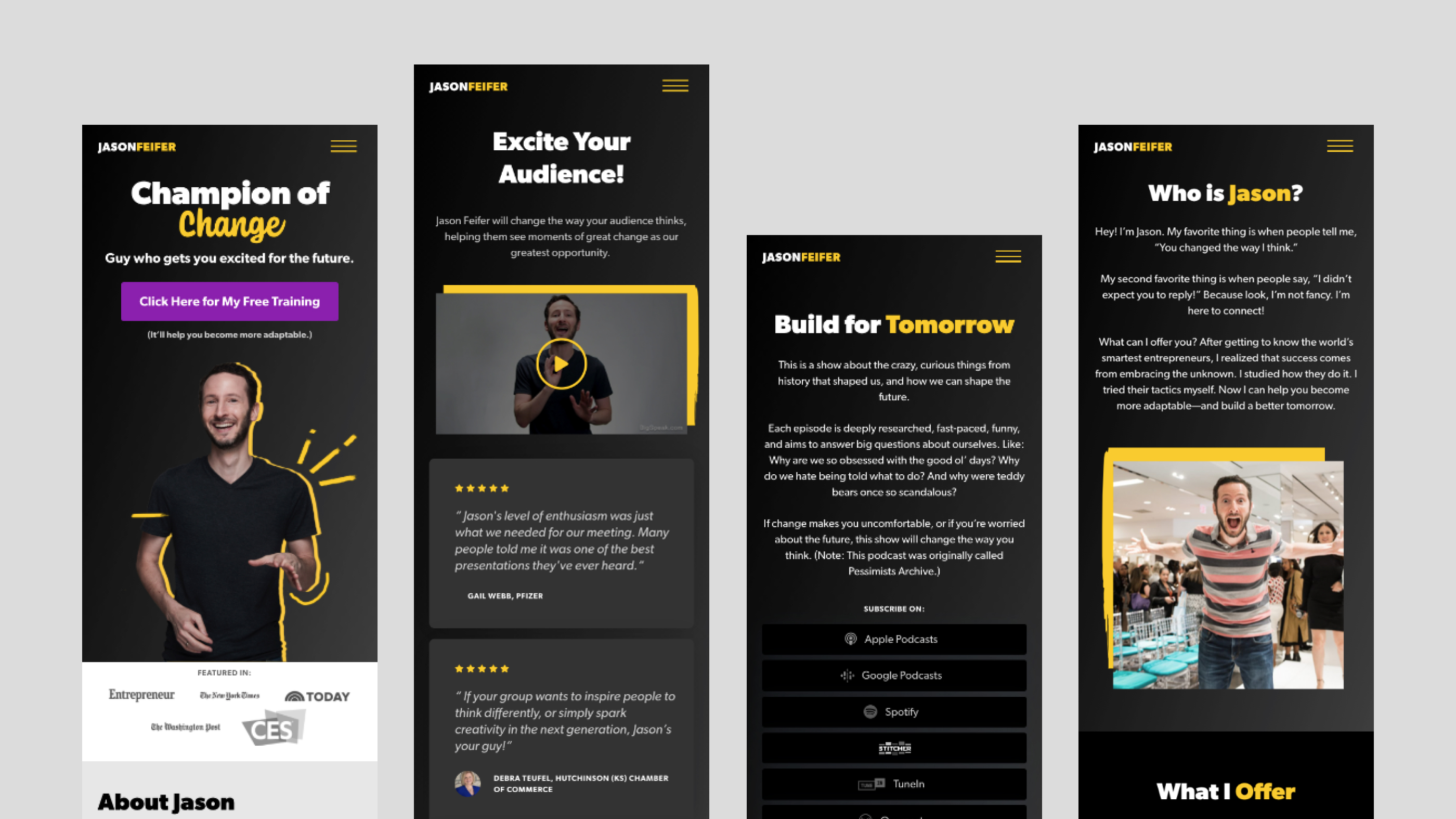 Branded accents that run throughout different elements on the site, A custom podcast player
We're grateful to have been able to work with an inspiring professional like Jason. He is good people. And now, his brand and site are ready to support him well into the future as a champion of change.
Check out the rest of Jason's site right now at jasonfeifer.com.